Almost all of Chimes Israel's centers across the country benefitted from "Good Deeds Day," the international day of volunteering on March 29, 2022. This worldwide day of community service was created in Israel by businessperson and philanthropist, Shari Arison. Its mission is to unite people from around the world in doing good deeds for others and the planet. It has been growing globally since 2011, with participants from around the world and collaborations with MTV Global, NASDAQ, Pope Francis and the Rome Marathon.
The Clalit Health Maintenance Organization, Bank Hapoalim, Bituach Leumi, the Army's Border Patrol Unit, and our Tel Aviv next-door neighbors, the Forescout cybersecurity company, sent small groups of employee volunteers to multiple Chimes Israel locations serving all of our populations, from preschool to the elderly.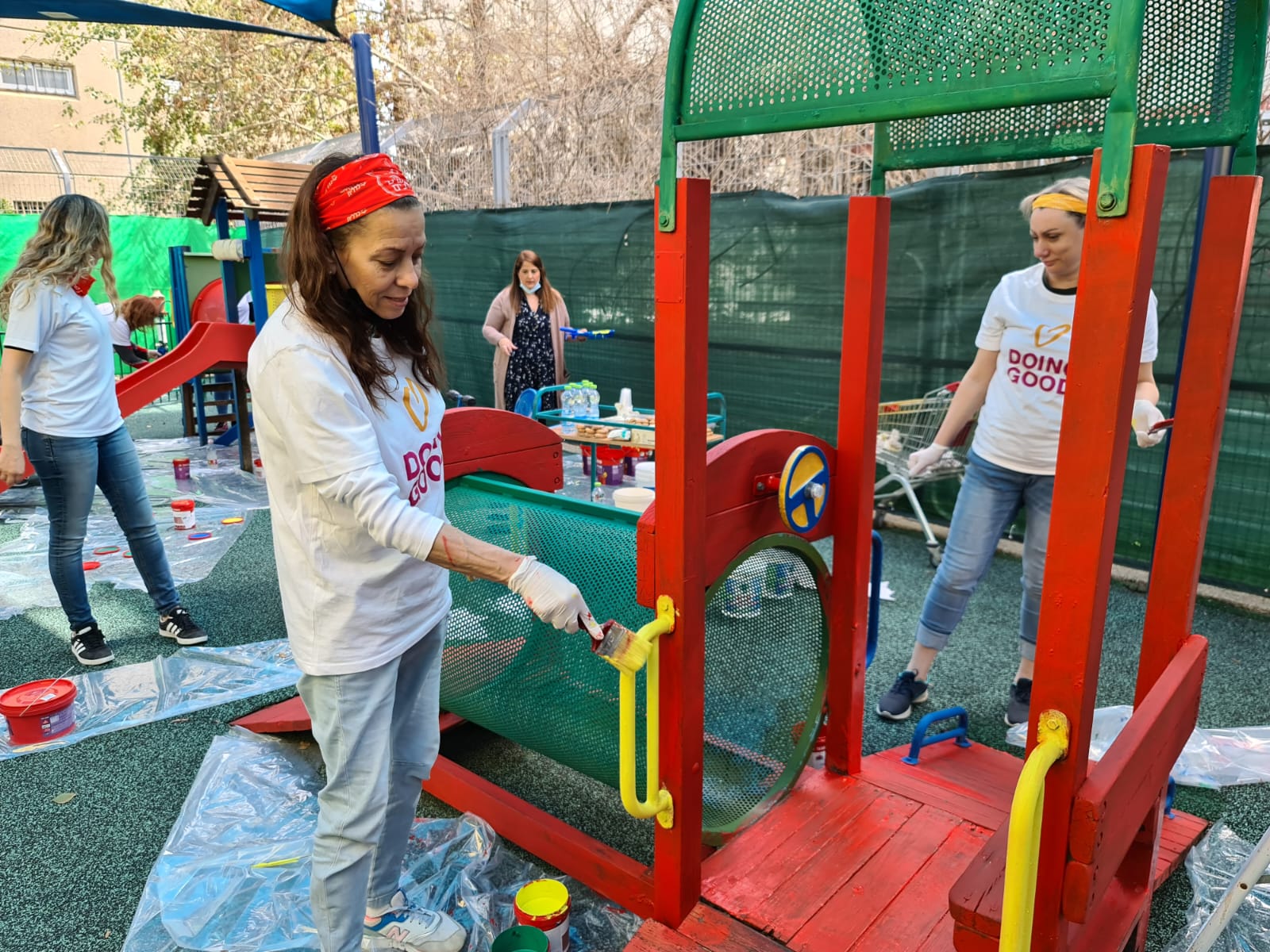 After a two years of very few outings due to Covid-19, the adults with moderate to severe disabilities from Tel Aviv's Aliza Begin center enjoyed a gorgeous sunny day with Clalit employees and animals at the Ramat Gan Safari.  Other volunteer activities with clients included a food prep workshop with a nutritionist, Israeli dancing, live animals, greenhouse pot planting, sport games, art projects, a medical clown, gardening, an acting workshop performing the Exodus (including making costumes), and a picnic. Teams of volunteers worked hard to renew the Holland and Shaked Early Childhood Centers' playground and Rubeneko courtyard and adult playground by staining, painting and decorating, outdoor furniture, playground equipment, walls, and concrete sitting areas. Clalit even pampered the staff of our Holland Early Childhood Center in Tel Aviv with reflexology treatments.
As she helped the Achikam sheltered workers with an art project, Michal Sadeh from Clalit explained why they came: "It's a tradition to volunteer every year, wherever we are needed. It is refreshing on our part to be here and look at life from a different perspective. It's pretty important because you get tangled in your own little problems and suddenly you feel needed and you get a good perspective of life." 
While working with elderly clients to pot plants in the greenhouse, Moran Inon, a physical therapist from Clalit remarked, "I think it is really special that people with disabilities have a place to go each day. Especially older people with disabilities. I know from my work that today they live longer. They need activities for them later in life. I think it is great that they have somewhere to go, be active and socialize with each other."
Shulamit Center name plaque is unveiled honoring Shulamit Gildner.
Nofar Hoori from Forescout volunteered by painting a concrete sitting area in the Rubenenko courtyard with her colleagues. "Since we are neighbors, we thought that this is a great place to contribute and be a friendly neighbor, maybe regularly, said Hoori. "It is wonderful place for adults with disabilities to stay active, and they seem to be happy and blossoming here."
The day was a great success for Chimes, particularly because all the volunteers were extremely engaged, eager to help, and in high spirits. For example, during the sport activities at Achikam in Tel Aviv, the volunteers loudly cheered and embraced each client when it was their turn to throw the basketball, roll the bowling ball, or toss the ring over an object. The activities were so spirited that a 25-year-old client with autism, Noam, who had never before participated in group activities, joined in with enthusiasm. On several occasions, Noam and the volunteers jumped for joy after he threw the basketball into the net! After two years of Covid-19 isolation, the sunny day, coupled with the highly interpersonal jubilant experience, was therapy for all.