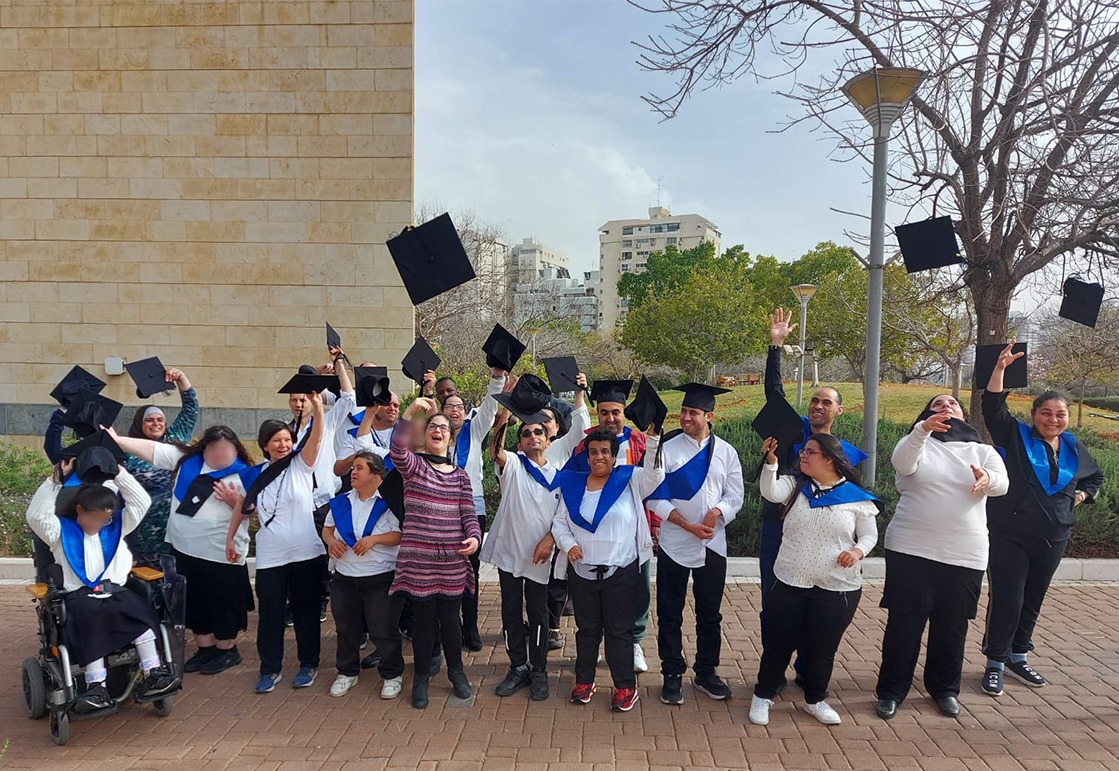 Congratulations to the second graduating class of the Chimes Israel-Bar-Ilan University Academic-Vocational College! The innovative program breaks new ground by giving an equal and real opportunity to integrate people with disabilities into the world of employment through education. This year, 24 students (two and a half times the number of students in the first class) participated from Chimes Centers in Rosh HaAyin, Kfar Saba, and Tel Aviv. Our clients with cognitive disabilities participated in this two-year academic program tailored to their abilities, employment goals, and interests by attending biweekly classes on the campus of Bar-Ilan University. The subjects covered included nutrition, gerontology, sociology, ecology, biology, motivational theory, social psychology, office support, and computers. In addition, they took part in workshops that instilled essential tools and skills for open labor market employment confidence. The courses were designed to prepare the students for the workforce in the areas of eldercare, childcare, culinary arts, office support, and animal care. To support their knowledge acquisition and other needs, Chimes Israel group leaders accompanied them throughout the educational process.
At the graduation ceremony, Chimes V.P. Vered Carsenti addressed the students, calling them "our engine for groundbreaking work!"  She also announced that so far seven jobs have been found for students and Chimes is seeking suitable employment for everyone that will be of their choice and skills.
"I am more confident than ever that you will succeed and realize yourself as a full-fledged employee," said Carsenti. "To you, dear students, our greatest appreciation for choosing to embark on a new and challenging path, which required a lot of faith, perseverance and the ability to adapt to a changing reality and to learning under the corona restrictions on Zoom."
She relayed the funny story of the great excitement that gripped everyone after Covid-19 restrictions were lifted and Professor Shoshana Nissim came in "LIVE" to meet the students. "She turned in an instant from a half-body figure in the Zoom cube to a person of real size and hopeful eyes," recalled Carsenti. "We dreamed of reaching the university that indeed materialized. We finally reached the realization of the student experience."
The students all passed their exams with excellence and we are proud of our graduates and staff for their hard work and accomplishments!